KNITTING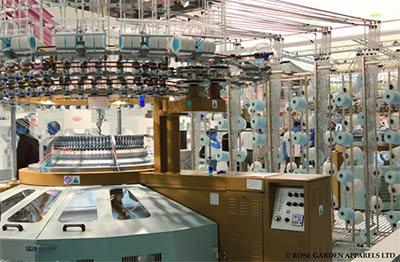 Per day Knitting Capacity is – 3,500 kgs.
We are equipped with Circular knit production machines by Lisky (Taiwan), Jiunnlong with 100% Lycra attachment.
The range of manufactured knitting linens. This Unit Is Equipped With Modern Machinery's To Produce Different Types / Designs Of Knit Fabrics. The Circular Knitting Machines Of Different Diameters Are Of Lisky Brand Fitted With 3/4 Tracks Cams, Are Producing Single Jersey / Pique / Lacoste Fabrics. Moreover Also Producing Lycra (S/J And 1x1 Rib) Fabrics. Strip Fabrics, All kind of Rib Fabrics, French Terry In Different Weight.
SEWING OPERATION
Sewing Line: 15 lines,
Machine: 335 nos.
Production Capacity: 15000 pcs. per day
Sewing knitwear made exclusively on JUKI (Japan), Brother, Pegasus cervical machine, quality of work which does not require comment.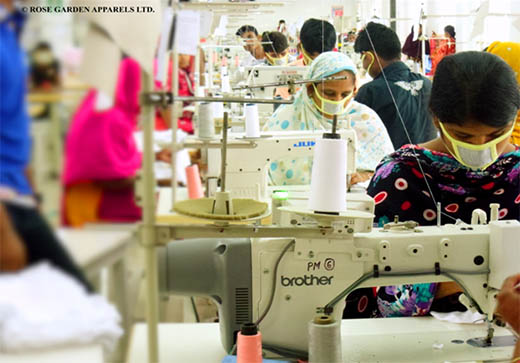 PRINTING OPERATION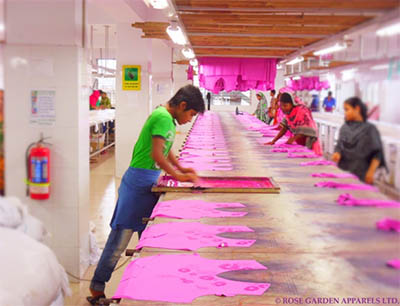 We are capable of printing all specification in the range from film to screen development; it has ability of Pigment, Silicon, Puff, High-Density, Flock, Glitter, Rubber Print, Metal Stone, Glass Stone, Sequence and all kinds of print & stone works with equal proficiency.
Production Capacity: 10,000 pcs per day.
EMBROIDERY OPERATION
Our Embroidery unit is equipped by a set of branded machines- Tajima (Japan).
We are capable of doing all kinds of embroidery works as well as sequence.
Production Capacity: 5,000 pcs. per day.
QUALITY MANAGEMENT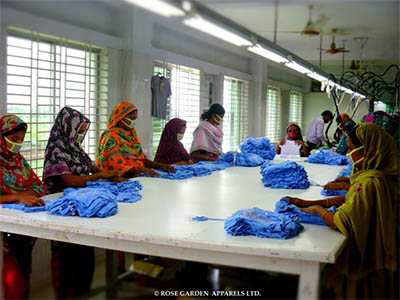 We follow Total Quality Management technique in quality inspection, which is an approach of Lean Management. Our Product quality is assured in every stage of operation from sourcing till packing. We've Independent inspector team to monitor the whole quality and inspection procedure and reporting directly to the top management.
Fabric Inspection
Inline Inspection
Mid line /Pre-final